I think baking cookies is equal to Queen Victoria running an empire. There's no difference in how seriously you take the job, how seriously you approach your whole life.     
How to start a bakery business? Well, if you are passionate about baking and have a tremendous interest in starting a business on confectionery items, then you have banged on to the right place! Go through the following blog to get a step by step guideline on how to start a bakery business.
What is a Bakery Business?
Before knowing how to start the bakery business, let's have a look at its definition.
A bakery business is a sector that manufactures and sells flour-based food items baked in an oven such as bread, cookies, cakes, pastries and pies. Some small bakery shops are also categorized as cafes that serve coffee and tea to the customers. Meanwhile, confectionery items are also common in most bakeries throughout the world.
Types of Bakery

Business
Have you ever wonder that there are a bunch of categories in the bakery business? Please, don't be surprised!
Before knowing how to start the bakery business, it is somewhat compulsory to know the categories. However, below I've enlisted four major types of a bakery.
1. Retail Bakery
It is that kind of bakery, which sells baked goods directly to the customers, not to the other businesses or distributors.
Retail bakeries can be of many forms. However, most of them will require at least one staff member who is in charge of running the cash register and helping customers.
Also, retail bakeries need both front and back yard of the house. Therefore, it can cost money upfront, but it allows you to exercise your creativity with an interior design that matches your bakery's style.
Pros of a Retail Bakery
More chances of face to face interaction with customers
Opportunity for creativity with the front of house design
Usually more economical to get up and running
Cons of a Retail Bakery
Smaller, less steady orders for income
Need employees to run the in front of the house area



2. Wholesale/Commercial Bakery
If you'd prefer a business with large-scale clients to individual customers, you might give a thought on the wholesale bakery. In wholesale, the bakers typically sell their products to other companies, like restaurants, grocery stores, speciality shops, and cafes. Because these businesses rely on regular clients, your earnings won't depend on customers that come in for a snack. Beyond any doubt, it is beneficial than retail baking.
Additionally, wholesale baking offers a more flexible work schedule. While you may be unable to modify your storefront or decorate a dining area, the commercial bakery serves you plenty of opportunities for creativity.
Pros of Wholesale Bakery
Steadier source of income as you'll take large orders
No front-of-house space needed
More flexibility in terms of location
Cons of Wholesale Bakery
Upfront costs are higher than the retail bakery
For high volume production, you may require additional staff, which means more overhead costs

3. Artisan Bakery
The most aesthetic and difficult one! It takes guts to start a craft bakery.
An artisan baker is a craftsperson who has the highest ability to mix, ferment, shape and bake a hand crafted loaf of bread. Likewise, they unleash the science behind the chemical reactions of the ingredients and use them to make the most optimal context for the bread to develop. But whether the products the artisan baker makes are cakes, the aim is to turn a passion for baking into a profitable business.

4. Freelance Bakery
You know what? You can have a freelance bakery also!
To run a freelance business, all you need to do is to showcase your baking forte to the whole earth through well-documented recipes, videos or presentations, and firmly established connections. Most importantly, if you are a master baker and have a knack for advertising your skills to the world, you will create a splendid freelance baker!
How To Start a Bakery Business
Now fasten your seat-belt to enter into the heart of this blog! I'll try to provide you with all the steps on how to start the bakery business. So, stay with me!
1. Select Your Bakery Service Style
To start your business, you have to select your style of service. There are a number of bakery service trend out there. Therefore, to make it easy, I've summoned up some common styles below:
Cafe
Sit down cafe is a type of retail bakery that has a dining area for customers to sit and enjoy their food. As a result, opening a bakery cafe with seating arrangements can be more involved than the others because you need a location with both backs of house and front of house space. Most bakery-cafes also sell food and drink in addition to baked products.
Counter Service Bakery
It requires space for customers to order your products. Counter service bakeries are smaller and don't have a dining area. This business style could potentially save you money on overhead costs. Also, you can cater to walk-in customers who want only a few items, as well as customers who call ahead for bulk order.
Food Truck
It sounds like fun! If you have a little capital, you can start your business on a food truck! Food truck bakery is gaining popularity day by day, and the most important benefit is it's convenient. It also offers you the freedom to move around to different locations. However, you'll probably need to find somewhere else to prepare your product.
Specialty Bakery
A specialty bakery emphasis on making one or a small number of baked products.  For instance, allergy-friendly and health-conscious bakeries, like establishments that offer vegan or gluten-free baked goods, also fall into the specialty category. It also provides flexibility. As you'll focus on a specific type of product, you can choose to produce it in either a retail or wholesale setting.
Traditional bakeries
With a hot biscuit, you can give the day an excellent start. Regardless if you wish to eat this plain or add bacon, egg or sausage to it, you'll have your choice at these types of bakeries. These are old-fashioned yet they hold gravity. So it can be a wise decision to start your business as a traditional baker.
Wedding bakeries 
Wedding bakeries are the types of bakeries that focus specifically on products for wedding occasions. It's not often you'll need a wedding cake, but when you do, it's essential to make the most of this time.
Wedding cakes can be custom made to suit your personality and your special day. Of course, you may want to choose the cake that best meets your budget.
Bread and Cookies shops
What is a better way there than starting the day with a hot bagel with cream cheese? This is sure to be one of the tastiest ways to begin any day.
Of course, if you're on a diet, you may need to watch your calorie count a bit. However, you'll be able to enjoy this tasty treat with ease when you know the right types of bakeries to visit.
Choosing what type of bakery you want to open is an important decision, as it will determine how you'll set up your bakery business plan. When you decide what type of bakery you're going to open, you're also selecting if you'll need additional employees, what kind of baking space you should lease or buy, and how you're going to market your bakery. It's a big decision, but it's also the exciting first step in your new business venture.


2. Decide a Name!
A right name always makes the best first impression. SO selecting the best-suited name for your company is a must!
Create a list of the names that you like. Then check those names in the trademark database to check if those names or similar names exist or not. Once you have selected a well-fitted name, make sure to register the matching web domain and social media platforms. Protect the title of your company with a trademark and market brand online.
3. Decide a Logo and Dress-code
Now it comes to the logo and dress code of your company. They are as influential as your company name.
Hire a professional designer to create an appealing logo for your company and make sure that the logo clearly represents the purpose of your business. Similarly, select a dress code for you and your employees which is unique and comfortable as well.
4. Bakery Business Plan
Your business plan is the ground of the bakery and will aid you as an invaluable guide to structure, run and expand your new bakery.
The business plan can be divided into two common categories: traditional or lean startup. The conventional list is very detailed, takes extra time to write and is quite inclusive, while the lean startup plan is high-level, brief and only contains critical components.
The key sections of your bakery business plan must include the following:
Executive Summary.
Company Overview and Description.
Market Analysis.
Business Offerings.
Management Plan and Ownership Structure.
Marketing and Advertising Strategy.
Financial Projections.
5. Create a Budget
After making the plan, it would be easier for you to make a budget for your start-up business. Make a rough estimation for the expenses to kick off the business. Try to make it precise and short and don't get a heavy heart if you have a small budget to start the business as it is only the beginning!
You'll need to budget for :
Licencing and legal fees: £500-1,000
Equipment: £1,000-£5,000
Start-up supplies and ingredients: £2,000-3,000
Commercial rent or mortgage: £500-2,500
6. Register as Self-employed
As you're starting your baking business, you need to inform HMRC that you're self-employed, so they know you need to hand over tax through the Self Assessment system. You need to do this even if you're going to be running your home baking business part-time or if you have another job.
To set up as an individual trader, all you need is to tell the HMRC to register your business. If you want to set up as a limited company, instead, the process can be a bit more complicated.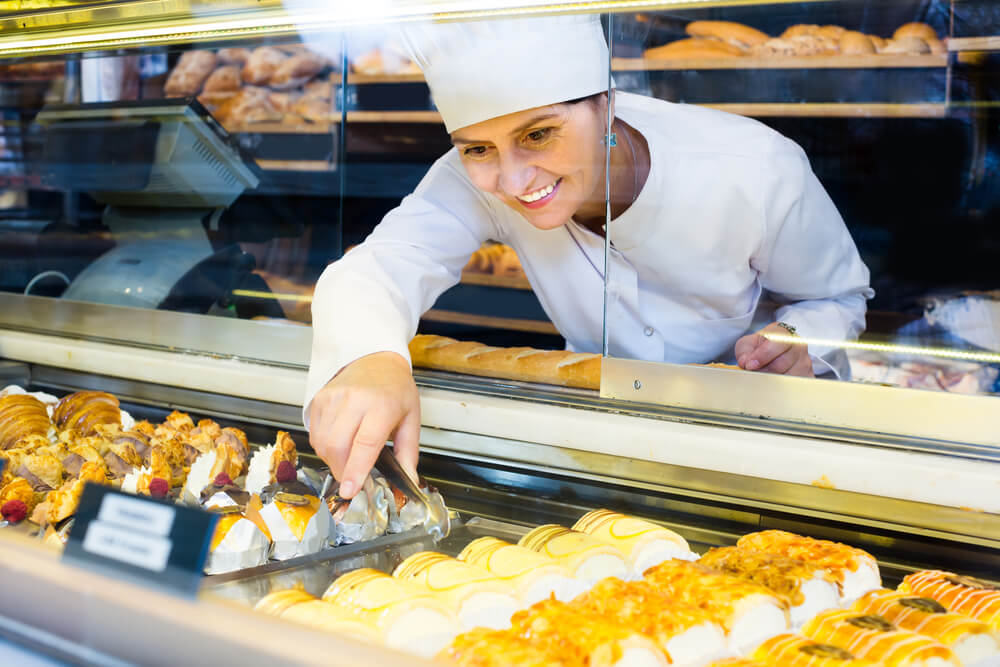 7. Get Loans to Start Your Bakery
For your business, you'll have to lease a commercial space, get insurance, outfit your room with equipment, hire and train staff, stock your kitchen and pay for amenities. As a result, you'll need to have a smart amount of money available. Additionally, your business may take a few months to become profitable after starting. So the most convenient option can be taken out loans. There are three ways business owners get funding:


Traditional Commercial Loan: You can apply for this loan at any major or local bank. This type of loan provides lower interest rates and large capital. But you need to have a high credit score and wait for months to access the money.


Business Line of Credit: It is akin to a credit card. You have the approval to use up to a certain amount, but you're only charged for the amount you use. Additionally, by paying off the balance, you can access more credit.


Small Business Loan: Small Business Association has created this type which aims to shield small businesses and supply them with startup capital. Small business loans usually have lower interest rates and are available to people with borderline credit.
8. Buy or Lease a Commercial Space
The commercial space you aspire is determined by the type of bakery you are going to open. Wholesale bakeries can be located far from the cities while retail bakeries will require a commercial space in populated areas. Food truck bakeries may need leasing space in a commissary kitchen.
Key factors to consider to lease a commercial space are:
Demographics.
Accessibility.
Proximity to suppliers.
Competition.
Size and space requirements.
Health regulations and zoning.
Safety and crime rates.
9. Get the necessary permits and licenses.
The food service industry is heavily governed on a federal, state and local level. The licenses that you require are a business license and food service license. Your government will issue the business license, whereas food service license is issued by your city's health department to ensure that your bakery is maintaining food safety regulations.
Also, you may need an electrical permit, a plumbing permit, a signs and awning permit, a patio permit, a dumpster placement permit, and a food handler's permit.
10. Select Profitable Bakery Items
Now you have to select the core part of your business, the bakery items to sell. For making a profit, you must select your bakery products as per the demand of the consumers and popularity.
Below I've enlisted a few profitable bakery items for your business:
Cookies 
Cakes (cake slices, individual celebration cakes, cake pops, seasonal cakes, and speciality cake fillings)
Cupcakes
Muffins/Scones
Brownies
Cinnamon rolls
Bread
Sandwiches/wraps
Yeast-raised Doughnuts and Beverages
Kale rolls
Nutella Brioche
Whatever you choose, make sure to include cookies and cakes because these are the yummiest!
11. Equipment Needed to Start a Bakery
You can't start your dream business without the basic tools, can you? 
The most essential equipment to start the bakery business can be:
Shelving
Baking utensils like a mixer (stand or tabletop) with accessories, a machine for crimping, folding, trimming and sealing dough, a slicing machine, and a dough proofer
Commercial ovens
Refrigerators.
Cutters, Sifters, and Spatulas
Pans
Wrapping materials, bags and boxes
Cooling racks
Display cases 
Warewashing equipment such as a three-compartment sink, hand-washing station and disposable gloves, sponges and scrubbers for the staffs
Chemical detergents and sanitizers 
12. Design a Layout
After finalizing the location, you can plan the layout that needs to be approved by the relevant authorities.
For for the back-of-house area, you will need four main sections, cleaning, storage, food preparation, and cooking. Your kitchen layout should have a logical flow to create a seamless environment.
For the front-of-house floor plan, use a layout that makes customers comfortable and facilitates purchases. Bakery layouts come in four variations which are straight, angular, diagonal, and mixed floor plan.
13. Recruit and Train Staff
You can't expect to run your business alone! That is to say; you must hire more staffs and train them as per your bakery service.
However, your bakery should have at least one or two employees that have formal training or experience to supervise the baking process. Additionally, you can also hire some unskilled workers for washing dishes, mixing ingredients, packaging products, and doing other tasks that don't require experience or expertise.
14. Bakery Pricing
You must figure out the pricing of your items as it can break or do business! Proper and accurate pricing is crucial to make a profit. To fix the price tag, you'll take into account:
Materials
Devaluation
Overhead
Labour Wages
Business Expansion



Is Bakery Business Profitable?
According to the Federation of Bakers, the United Kingdom bakery market is worth around £3.9 billion, which is one of the most notable shares of the food industry. Each day, about 11 million loaves of bread and packs of cakes and other baked goods are sold. Moreover, the UK Bread and Bakery Goods Production industry is estimated to be worth approximately £8.3billion, and the annual growth rate was 2.1% between 2014 and 2019. Though the industry has been under pressure recently, smaller specialist bakeries have increased and have been popular with customers. 
See, there is no doubt that its a profitable business!
Final Remarks
Before putting the full stop of this blog on how to start a bakery business, I'd like to give you a small tip. When you launch your business, choose an important day such as Christmas eve, any carnival or any special occasion with a special opening offer! It will give you the publicity you want.
After reading the blog, I believe now you have all the necessary info on how to start a bakery business. Apart from this, I tend to provide all the knits and bits of bakery business for your ease. So, step on the floor and make the world smell better!
Good Luck Mate!
Learn the art of baking from the experts
Online Culinary Skills Training Course