If you're wondering how to start a career as a nail technician, then you're at the right place! 
Here is a 10-step beginners' guide, which will show you all the steps you need to take to begin your career. Also, you will find everything, including the qualifications and skills you'll need to thrive in this industry.
Who is a Nail Technician?
A nail technician is a beautician who is a master of all trades when creating the perfect manicure/pedicure. Therefore, they are called a nail technician. This beauty specialist is responsible for the grooming and appearance of a client's nails.  
 A nail technician provides a wide range of nail care and design services. For example, they perform manicures, pedicures, apply nail polish, callus removal, cuticle grooming, nail shaping, synthetic nail treatments, etc.  
What does a Nail Technician Do?
As a nail technician, you will have a wide range of responsibilities in your daily work. Some of them include:
Perform cleaning, filing, and grooming fingernails and toenails.
Trim and remove the cuticle, moisturise the skin of the hands and feet properly, and remove dead skin in both areas. For this purpose, you can use equipment that shapes, smooths, and airbrushes nails and likewise during a pedicure treatment. 
Light massage to improve circulation and relaxation during the session. 
Moreover, some people want more creative services. These include:
Adding acrylic nails, gel coverings, or a silk strengthener after treating the natural nails.
Apply a simple polish, a French manicure, or decorative airbrush paint.  
Small jewellery and decals customers want them. 
Offering nail care advice after identifying problems that clients may be experiencing regarding their nail health.
Did you know?
Acrylic nails were introduced in 1978 by a dentist.
Step-by-step Instructions on How to Become a Nail Technician
Here is a complete beginner's guide, which you may find very easy. Just follow these 10 simple steps if you want to become a successful nail technician.
1. Research on the Nail Industry
2. Consider Your Personality and Style
3. Research on the Essential Skills
4. Understand the Job
5. Get Qualified!
6. Learn From Industry Experts
7. Get Your First Kit
8. Practice a Lot
9. Make a Solid Plan
10. Get Started!
1. Research on the Nail Industry
Look before you leap! So, before you step into the nail industry, you should research the field and find out its secrets! There must be few things you find out that could either increase your passion or put you off totally!
Therefore, explore before making the first step and ask a few questions yourself.
You can consider some of these areas following-
Background Study
Are you aware of the rich history of nail technology? It's a thousand-year-old practice. Firstly, you should learn about all the main events that have happened over time.
Expectations
Secondly, what is your expectation in life? The real thing can often be different from your want and perception.
Requirements
Thirdly, do you know what do you need to do to become a nail technician? Does it require any qualifications? Experience? Or specific skills?
Trends over the Years
Nail technology is constantly changing. Are you aware of how these changes can affect you?
Interests and Expertise
Finally, what is your area of interest? If you're particularly interested in the maintenance of the hands, you can choose this as your area of expertise.
By answering all of these questions above, you will know if you are ready to enter the nail technology career field.
2. Consider Your Personality and Style
Nail technicians are to be predominantly enterprising individuals. This means that you need to be a pretty natural leader who thrives at influencing others. In addition, you need to be creative as well as have your own distinctive style. If you carry a unique combination of personality and style, people around you will be more intrigued by your nail business.
Therefore, if you want to make a successful career in the nail industry, you need to ask yourself, what makes you unique? For example, think if you have a particular style. Or, What are the personality traits that may help you in this job?
Style
Take a few minutes and think about what makes you stand out…
Everyone has unique strengths. Last time when you went to get your nails done, why did you go to that technician? You might have gone to one tech for pampering and another for a new, creative design.
Also, you can consider someone else's style. Because you like simple, matt looks, it doesn't mean you should recommend that style to everyone. You have to develop a deep understanding of what people want. Additionally, you will recommend around that.
Personality
A fantastic personality can take you to great heights in your career. Here are some of the essential personality traits you will find most nail technicians have-
Creative: Are you that person who is able to create something that has the wow factor? Firstly, you always need to know the basics of nail work. However, being able to create unique and inventive looks can set you apart from others.
Lively: Nail technicians work for an extended period of time with the clients. So, you've to be able to hold a conversation. Likewise, your clients will sit opposite you, and you may have to talk to them for hours. So, you need to have a vibrant attitude every time you are providing service.
3. Research on the Essential Skills
Every profession requires a unique set of skills. Similarly, as a nail technician, some essential skills will help you grow further in this profession. They are-
Organisational Skills
Organisational skills are essential in this job. For example, you will have to take bookings and schedule how long a treatment will last. For this purpose, you need to make good communication with your clients and understand their exact needs.
Also, you need to decorate a pleasant and organised workstation or salon. For that, you have to keep everything clean and easy to find. If clients come in and find a clean atmosphere, they're more likely to return. Moreover, you may have a rush of clients someday and handling them would be challenging if you don't have organisational skills.
Did you know?
Nail polish was the symbol of status in Ancient Egypt. High society painted their nails red, while the lower class often wore nude and light colours.
Health and Safety Conscious
Health and safety are essential for every profession, especially when it involves direct contact with clients. In a people-facing job, diseases can get transmitted easily if the correct precautions are not being taken. Therefore, you will have to study health and safety to qualify as a nail technician. You also will have to maintain health and safety awareness.
Therefore, in handling chemicals, ask your clients if they have any allergies to a particular chemical and know how to store your chemicals and equipment safely.
Multitasking Ability
Multitasking is an essential skill for a nail technician. You need to provide high levels of concentration, attention to detail in your work, interact with clients, and provide the best customer service. So, how will you do this simultaneously if you are not a multitasker? But don't worry about that because this is a skill you'll build over time.
4. Understand the Job
Before starting your journey as a nail technician, it is essential to understand the roles and responsibilities satisfactorily. Therefore, below is a list of all the essential responsibilities and duties of a nail technician.
Doing high-quality manicures and pedicures, including- cleaning nails, removing old nail polish from all the nails, shaping the nail ends, and pushing back cuticles, after that, applying new polish as your client's choice. Even applying artificial nails.
Recommending clients nail designs and art.
Assessing the condition of people's nails and advising them on proper nail care and proper nail treatments.
Ensuring that necessary nail instrument supplies are adequately stocked.
Sanitising all nail equipment and instruments before and after each use.
Ensuring that parlour is kept neat and clean.
Providing high-quality and relaxing hand and foot massages.
5. Get Qualified!
To become a nail technician, you do not require any specific qualifications. But, to thrive in this profession and learn the trade, it is recommended you have the following:
Successful completion of high school.
Enrol in any nail and beauty related course at an accredited institution, such as Nail Technician Diploma, Gel Manicure and Nail Artist, Acrylic Nail Extension Course and so on. You can also enrol yourself in multiple courses to increase your skillset.
Get a Cosmetologist licence.
Look for apprenticeships or training under a professional nail technician. These provide on-the-job training. The best part is you get paid as you learn. In addition, since you will be working under the supervision of an experienced nail technician, you can get professional tips and learn essential work ethics.
Pro Tips: You can join this excellent Nail Technician Diploma for up-to-date professional skills. This course is designed to teach you everything related to this profession provide an internationally recognised certificate at the end of your successful course completion.
6. Learn From Industry Experts
While your tutors and course materials will help you learn about beauty techniques, your learning can't be complete without an overview of the whole industry and what other people related to this are doing.
Did you know?
The most expensive nail polish costs £160,000. It is made with 267 carats worth of black diamonds.
Therefore, it's essential to know about the best technicians in the industry. You can soak knowledge that will help you in your work.
Try to see their works and what they say about the industry. For this, you can follow them on Instagram. Betina Goldstein, Tom Bachik, Thuy Nguyen, Mei Kawajiri, Chaun Legend, Alicia Torello, Britney Tokyo are few experts in this industry.
Nail Technician Diploma
The Nail Technician Diploma is designed to provide step-by-step guidance on nail salon treatments for those who are starting out in their career
Nail Technician Diploma
The Nail Technician Diploma is designed to provide step-by-step guidance on nail salon treatments for those who are starting out in their career
7. Get Your First Kit
Nail kits are essential for your daily work routines. Therefore, before you start, you need to get a few necessary pieces of stuff. These include-
Hand cleaning soap
Manicure and pedicure bowl
Hand and foot moisturiser
Acrylic brush
Nail clippers
Nail powder
Acrylic nail tips
Various cleanser
File kit
Nail polish
Nail polish remover
Glue
Cuticle pusher instrument
Cuticle clipper tool
Toe separators
Footcare file
Necessary oils
Glitter, shiny gems, and stickers
Salon smock
A few? We are kidding! However, you can get this gradually. Start buying with the most important ones, and over time grow your collection.
8. Practice 
You are a creative and talented person, but you don't practice. If this is true, then it will be tough for you to become skilled. Though, if you want to be a pro nail artist, then you don't have any other choice but to practice.
After taking all the knowledge and inspiration, you need to practice a lot. After that, you can try the techniques on your family and friends!
9. Make a Solid Plan
Once you have the necessary qualification and practice hard, it will be a wise idea for you to make a solid plan for this business. For example, are you planning to work in some renowned professional salon? Or, are you going to open your own business? Decide this before you get started.
Find out the best choice for you. Firstly, you can consider building a portfolio of your work. Secondly, you can visit salons. You can make a cordial relationship with the salon managers. Talk to and explain what you're doing, and ask them if they look for someone to hire. You can imagine how strong building connections can help you
Thirdly, if you get a chance, request some salon owner to allow you to work there every weekend. They may not agree to the deal initially. If luck is on your side, it will be a good kickstart as a beginner. The payment might not be outstanding. However, it's a start anyway!
Also, consider whether you're going to be employed or self-employed. If you want to do something on your own, it'd be an excellent idea to start bonding with people and build a solid client base before starting.
10. Get Started! 
Everything is set. Congratulations! Finally, you are getting started! You reached this step after gathering all your passion, skills, learning, practice, and hard work.
Where can You Work as a Nail Technician?
A nail technician works at a nail salon with other nail technicians. Generally, there are many stations for manicures and pedicures. However, each professional would be responsible for building and maintaining their own station.
Also, each technician who works at the salon usually rents out a workstation of their own. Fare could either be set on a monthly basis or as a percentage of what the nail tech earns.
However, you can work in many settings. Some of them include-
Spa
Almost all the spas have nail care facilities. It can be a hotel spa, airport spa, shopping mall spa or just an independent spa.
Airport
Large airports, around many countries, do have nail care sections, where the passengers can get relaxing manicures or pedicures before or after a flight.
Did you know?
Painting your nails is prohibited on aeroplanes. You can even be arrested!
Cruise Ship
If you are adventurous and love to travel, you may think of working on a ship! Generally, cruise ships offer their guests nail care on board.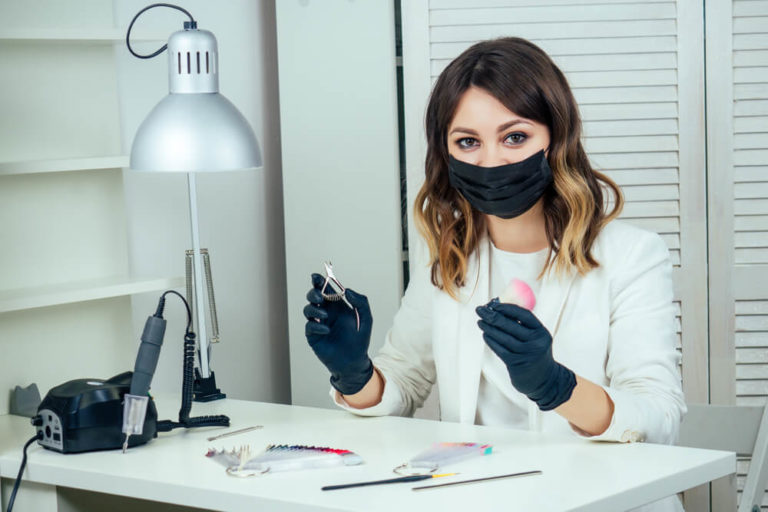 Training Institute 
If you enjoy your job and want to educate others, you can even start your own training institute.  However, education, expertise, and experience in the sector must be required to be an instructor in a nail tech program. This may vary from place to place. So, check out the requirement in your state.
Doctor's Clinic 
You must have been amazed knowing that nail technicians work in doctor's offices too! After being a nail technician, you might be able to get a job to help patients with specific health issues in a podiatrist's clinic.
Are You Ready to Take the Next Step?
A nail technician has a promising, exciting, and creative career. Moreover, the demand for nail technicians in our society will never decrease. Therefore, it is an excellent career choice. Thus, with the help of the 10 steps discussed in this article, decide whether you are ready to get started in this profession or not.
Nail Technician Diploma
The Nail Technician Diploma is designed to provide step-by-step guidance on nail salon treatments for those who are starting out in their career
Nail Technician Diploma
The Nail Technician Diploma is designed to provide step-by-step guidance on nail salon treatments for those who are starting out in their career